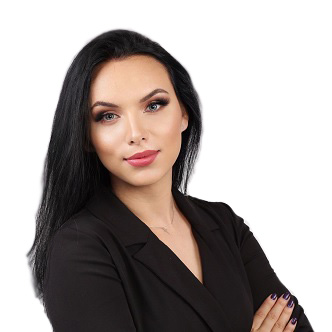 CARMEN GRIGORESCU HOTAR
Psychologist, speech therapist
Schedule: Monday and Wednesday 16:00 - 20:00
Professional experience
2014 - present - Specialist Clinical Psychologist, Speech Therapist, Supervisor, ABA Therapy Coordinator, Association for the Recovery and Integration of Children with Autism (ARICA), President of the Association for the Recovery and Integration of Children with Autism (ARICA)
2011-present - Specialist Clinical Psychologist, Speech Therapist, Supervisor, ABA Therapy Coordinator, Individual Psychology Office Carmen Hotar
2010-2012 - Clinical Psychologist, Supervisor, ABA Coordinator - Association for Therapeutic Intervention in Autism (AITA)
2008-2010 - Psychotherapist
Academic history
2021
Course: News in the clinical psychological evaluation of Affective Disorders
Course: Mindfulness parenting, Live Success Academy
Course: Depression Counseling: advanced diploma, Elmira Strange, Udemy
2018
Course: How to manage the child's emotions, Parenting Center
Conference: How to raise independent, strong-willed children who will make a better world, Dr. John Demartini
Conference: Cultivating parental intelligence through courage, compassion and connection, Parenting Center
Seminar: 18 Fundamental Parenting Techniques for Balanced Children and Fulfilled Parents, Urania Cremene
Conference: Parent-Child Attachment, Healthy Relationships, Prenatal Life Cradle Association.
Course: Psychological counseling increasing treatment compliance and pre-and post-operative support
2017
Conference for augmentative and alternative communication, for Eastern and Central European countries, College of Psychologists
Course: Psychotherapist, help for people with diabetes, College of Psychologists
Course: Psychological counseling increasing compliance with treatment and pre-and post-operative support, College of Psychologists
The 3rd Conference of the Rome Society of Pediatric Neurology
2015-2017
Master: Speech therapy in communication processes, University of Bucharest
2010-2012
Master: Clinical Psychology, Hypnosis and Short-Term Psychotherapy, Titu Maiorescu University
2008-2010
Master: Human Resources Administration and Development, University of Bucharest
2005-2008
Faculty of Sociology-Psychology, Spiru Haret University, bachelor's degree-psychologist
2016
Workshop on neurometabolic diseases and brain malformations, SRNP
ABA Bucharest International Conference, College of Psychologists
2015
Certified Specialist Clinic Psychologist, College of Psychologists
Continuing education course: Evaluation and psychological intervention in adults, College of Psychologists
Conference: Dravet Syndrome, Romanian Society of Pediatrics
Course: Social media for NGOs and informal groups
2014
Follow-up of the newborn at risk of neurological sequelae, Romanian Society of Pediatric
2013
Continuing education course: Talking to emotions. Verbal behavior and language of emotions (PECS), College of Psychologists
2011
Trainer within the European project "Therapeutic interventions in the recovery of people with ASD" (monitoring of therapists), College of Psychologists
Continuing education course: Models of good practice in early intervention and working with children with disabilities, College of Psychologists
Certificate of free practice - autonomous psychologist, College of Psychologists
Course: Music therapy means of development for people with disabilities
Continuing education course: TEACCH method (Treatment and education of children with autism and communication disabilities), College of Psychologists
Conference: Diagnosis and therapies in autism, College of Psychologists
Course: Generalization and maintenance in the therapy of children with autism - play and creativity
2010-2011
Supervision - Clinical Psychology
Continuing education course - 150 hours of personal development, College of Psychologists
Continuing education course: Cognitive-behavioral therapies in children with neuropsychiatric developmental disorders, College of Psychologists
2010
Continuing education course: Psychodiagnosis and clinical evaluation. Fundamentals (Applications for children aged 12 years), College of Psychologists
Continuing education course: Psychodiagnosis and clinical evaluation. , College of Psychologists
Course: Childhood experiences in the structure of adult personality, College of Psychologists
Course: Behavioral therapy techniques applied to the child with autism, College of Psychologists
Certificate of free practice - clinical psychologist under supervision, College of Psychologists
2008
Continuing education course: Inspector of human resources
Continuing education course: Cognitive-behavioral therapies in children with neuropsychiatric disorders - PECS method, College of Psychologists
2005-2008
Graduation certificate for education, Faculty of Sociology-Psychology, "Spiru Haret" University

Sustained courses
2018 - Lecturer course: The importance of the shadow in the integration of children with autism
2017 - Lecturer course: The importance of the shadow in the integration of children with autism
2016 - Lecturer: The importance of the shadow in the integration of children with autism
2015
Lecturer: Education and creativity for a knowledge-based society, Video modeling for autistic children
Lecturer Course: Demand and language, approach from the perspective of the shadow, Association for the Recovery and Integration of Children with Autism
Lecturer course: Different but equal-integration of children with autism, Special Technological High School no. 3
2011 -Lecture lecturer: Therapies and interventions in autism, Titu Maiorescu University
See patients' opinions about Carmen Grigorescu Hotar
Dr. Carmen Grigorescu is a great professional, who exercises her profession in a remarkable way, being full of empathy. Alex is adoring her and making incredible progress in a very short time. We come with pleasure every time to our new friend, Carmen :).
Respect and sincere appreciations for Dr. Grigorescu; the level of professionalism, empathy and warmth displayed bring me the mental comfort necessary to overcome the current situation. It is really the Specialist who gives you the confidence that you can succeed. It is a journey that I am firmly convinced that we will complete successfully, I congratulate Centrokinetic and I would like to thank Alin Voica, who through his vast experience has detected the problem and who guided me to Mrs. Grigorescu. Best regards!
MAKE AN APPOINTMENT
FOR AN EXAMINATION
See here how you can make an appointment and the location of our clinics.
MAKE AN APPOINTMENT