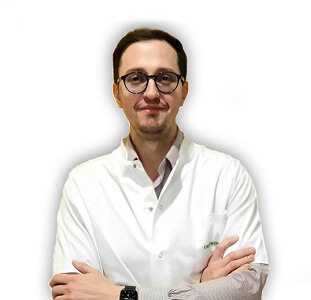 CATALIN PRESCURA, MD

Orthopedics - traumatology doctor
Schedule: Friday: 11:00 - 16:00.
Postgraduate courses:
2018: Madrid Foot & Ankle Course: Arthroscopic ankle surgical techniques and minimally invasive foot surgery, under the guidance of Prof. MD Niek van Dijk and Prof. MD Mariano de Prado (FIFA Center Ripoll y De Prado);
2017: Clinical Fellowship SPORTHOPAEDICUM, Straubing-Munich, Germany: Surgical techniques in hip arthroscopy, conservative osteoarthritis hip surgery / intertrochanteric osteotomies, periacetabular, under the guidance of Prof. Dr. Stefan Fickert;
2016: Minimally invasive/anterolateral approach in hip arthroplasty, CMO Center, Munich, Germany, under the guidance of Prof. Dr. Robert Hube;
2015: Surgical techniques in shoulder arthroplasty with partial, total, and reverse prosthesis (cadaver workshop), Paris;
2016, 2017: Advanced shoulder and knee arthroscopic techniques - Artrolab Munich;
2017: "Arthroscopic management of meniscal and chondral lesions pathology" - STI Bucuresti, Thomasz Piontek, Vincenzo Condello;
2013: AAOS-SOROT - Shoulder course, William Stetson MD/Guido Marra MD;
Annual participation in the SRATS congress - Romanian Society of Arthroscopy and Sports Traumatology;
Annual participation in the SOROT congress - Romanian Society of Orthopedics and Traumatology.
Member of medical societies:
SOROT - Romanian Society of Orthopedics and Traumatology;
SRATS - Romanian Society of Arthroscopy and Sports Traumatology;
AAOS - American Academy of Orthopaedic Surgeons;
ESSKA - European Society for Sports traumatology, Knee surgery and Arthroscopy.
Areas of medical interest:
Sports pathology/traumatology;
Arthroscopic interventions knee, shoulder, hip, ankle;
Primary arthroplasty/endoprosthesis and knee/hip revision;
Bone and joint traumatology: osteosynthesis of fractures, ligament/cartilage reconstructions;
Conservative surgery of young adults with osteoarthritis of the hip/knee: conservative arthroscopic techniques of the knee/hip, osteotomies of tibia/femur relaxation and ligament/cartilage reconstructions;
Stem cell regeneration (prolotherapy) techniques / platelet-enriched plasma (PRP) for cartilage/osteoarthritis/chondromalacia, tendonitis, chronic enthesopathy.
Surgery:
Minimally invasive arthroscopic surgery: knee, hip, shoulder, ankle;
Arthroplasty and endoprosthesis for advanced osteoarthritis: knee/hip/shoulder;
Custom knee prostheses ;
Techniques for revision/replacement of joint prostheses: hip, knee;
Arthroscopic sports knee trauma :
Meniscal sutures;
Complex ligament reconstructions: anterior cruciate ligament (semitendinosus, patellar tendon, quadriceps tendon) by ALL-INSIDE technique, posterior cruciate ligament, posteroexternal corner;
Reconstructions/suture of the internal collateral ligament by INTERNAL BRACING technique;
MPFL reconstructions in patella dislocation;
Complex reconstructions in congenital patella dislocation: MPFL reconstruction, patellar tendon anteromedialization osteotomies;
Cartilage reconstructions: artificial collagen by AMIC technique, autograft or allograft mosaic;
Regenerative cartilage therapy with mesenchymal stem cells harvested from bone marrow and jointly injected plasma (PRP).
See patients' opinions about Catalin Prescura, MD
A sensational doctor who does everything for the complete recovery of his patients.
Always a pleasure seeing him.
Services
| | | |
| --- | --- | --- |
| Service | Rate (LEI) | Details |
| New consultation (specialist physician) | 250 | |
| Follow-up consultation (specialist physician) | 150 | |
| Wire ablation | 100 | |
| Anti-inflammatory joint infiltrations | 250 | Details |
| Joint infiltrations with vascoelastic solutions (hyaluronic acid) | 1200 | Details |
| Therapies with high plasma platelet concentration | 2800 | Details |
| Plasma additive solution with low concentration platelet | 1000 | Details |
MAKE AN APPOINTMENT
FOR AN EXAMINATION
See here how you can make an appointment and the location of our clinics.
MAKE AN APPOINTMENT