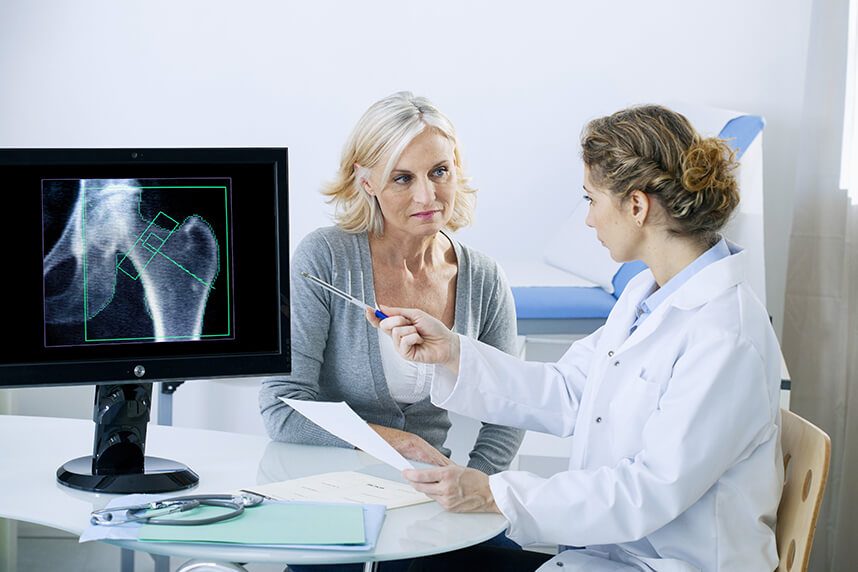 What is rheumatology?
Rheumatology is a medical branch that deals with the diagnosis, treatment and recovery of patients with non-surgical musculoskeletal disorders. These conditions are usually painful, acute or, most often, chronic, preventing the proper functioning of the musculoskeletal system. They are generally called rheumatism or rheumatic and musculoskeletal diseases.

Rheumatology - types of diseases
The main types of rheumatology diseases are the following:
Degenerative diseases caused by deterioration and wear of joints or mechanical causes: osteoarthritis of the limbs (gonarthrosis, hip osteoarthritis), spondylosis, lumbar disc herniation.
Articular or periarticular inflammatory diseases: bursitis, capsulitis, enthesitis, tendonitis, epicondylitis, Dupuytren's syndrome, carpal tunnel syndrome, cervico-brachial neuralgia, tendon calcifications of the shoulder or Achilles tendon, trochanteric bursitis
Metabolic disorders : osteoporosis, osteomalacia
Diseases caused by the presence of crystals in the joints : gout, chondrocalcinosis, calcifications
Autoimmuna, inflammatory diseases: acute rheumatoid arthritis, reactive arthritis, ankylosing spondylitis, rheumatoid arthritis, systemic lupus erythematosus, scleroderma, polymyositis, dermatomyositis, psoriatic arthritis
Infectious joint diseases : Lyme disease, tuberculous arthritis, gonococcal arthritis
Diagnostic methods
There are a few diagnostic methods used in rheumatology: biochemical analyzes, immunological tests (autoantibodies), genetic tests, bone density measurement.
In order to establish a correct diagnosis, our medical team can also add: imaging investigations (musculoskeletal ultrasound, joint MRI), functional tests (electromyogram), arthrocentesis. Discover the MRI imaging center in our clinic. Centrokinetic has a state- of-the-art MRI device, dedicated to musculoskeletal disorders of the upper and lower limbs. The MRI machine is open, so that people suffering from claustrophobia can do this investigation without any problems. The examination duration is, on average, 20 minutes.
Most of the times, the patient's evaluation is complex, multidisciplinary, considering the systemic, generalized character of most rheumatological diseases. That's why Centrokinetic has experienced doctors:
The methods of treatment of rheumatic diseases are complex and include: drug treatment and careful follow-up by the rheumatologist (steroidal and non-steroidal anti-inflammatory drugs, analgesics, muscle relaxants, immunological modulatory therapies, bone antiresorptive treatment in osteoporosis). Also, within the Centrokinetic clinic, we provide you with complex medical recovery programs with a very experienced team, accredited in: Tecar therapy, dynamic taping, massage, Graston technique, Kinesio Tape, ERGON, flossing band. Our team has attended numerous overspecialization courses with trainers from the country and abroad, being certified to perform therapies at the highest level. The experience gained in recent years has meant resolving over 250 patients per month.
About Centrokinetic
Centrokinetic clinic offers all services necessary for a complete rehabilitation process, from the first consultation to the medical specialist to establish the correct diagnosis, to treatment and recovery.
Centrokinetic is the place where you will find clear answers and solutions for your motricity problems. The clinic is dedicated to osteoarticular conditions and is divided into the following departments:

Find the latest news by following the Facebook, Instagram and YouTube accounts of the Centrokinetic clinic.
MAKE AN APPOINTMENT
FOR AN EXAMINATION
See here how you can make an appointment and the location of our clinics.
MAKE AN APPOINTMENT