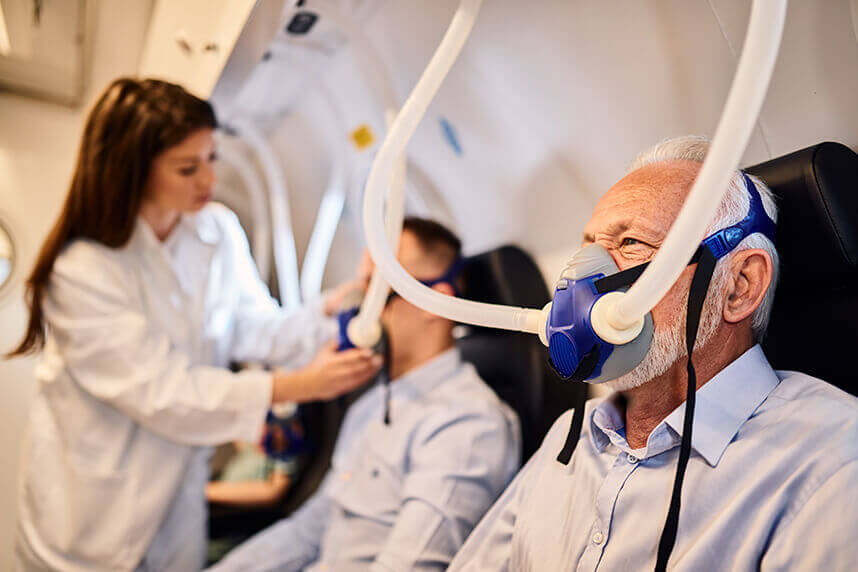 What is hyperbaric therapy?
Hyperbaric therapy is a form of medical treatment that involves exposing the body to pure oxygen at a higher pressure than normal. There are about 45 diseases approved worldwide to be treated with hyperbaric oxygen.
What effects does oxygen therapy have on the body?
Decreases inflammation
Increases the body's oxygen saturation by 20-30%
Increases the body's immunity
Increases blood circulation and stimulates the formation of new capillaries
Decreases toxins in the body
Stimulates new blood cells production
Increases STEM cell production in the body by 800% after 40 treatments
Increases healing rate
What happens during hyperbaric therapy?
The patient enters the multiplace hyperbaric chamber - a room able to accommodate more patients. Oxygen will be delivered through a comfortable mask, allowing you to relax during the process. Once you are comfortable in the room, you will be aware that the air is pushed slowly into the room - this is called compression. You will feel pressure in your eardrums similar to that felt in an airplane. At the end of the treatment, the mask will be removed and the air inside the room is released slowly. - this is called decompression. You will not feel any pain during therapy:
Oxygen molecules are dissolved in plasma
Oxygen levels increase only slightly in hemoglobin (RBC), which already works at about 95% capacity
Blood flow can carry six times more oxygen than normally
Plasma is infused with enough oxygen to sustain life without any hemoglobin
This oxygen-saturated plasma moves from the circulatory system to the spaces of the tissue, deepening into areas where there is no blood flow or where blood flow is diminished or compromised and carries oxygen molecules with it. Basically, through hyperbaric therapy, more oxygen is delivered to more cells than can be provided by the circulatory system.
The total effect is that the body has become hyper oxygenated and thus the process is known as hyperbaric oxygenation.
The European Commission on Hyperbaric Medicine divides the diseases intended for this therapy, depending on the effects of hyperbaric therapy, into 3 degrees, namely:

Grade 1: Strictly recommended
CO poisoning
Crushing syndrome, polytrauma
Prevention of dental osteoradionecrosis
Inflammation (cystitis, prostatitis)
Decompression accident
Gas embolism
Anaerobic or mixed bacterial anaerobic infections
Grade 2: recommended
Diabetic foot injury
Skin graft and muscle-skin flap
Osteoradionecroza
Proctitis/enteritis induced by radiotherapy
Soft tissue damage induced by radiotherapy
Aseptic necrosis of the femoral head, knee, ankle
Sudden deafness
Ischemic ulcer
Refractory chronic osteomyelitis
Stage IV neuroblastoma
Grade 3: Optional
Post anoxic encephalopathy
Radionecrosis of the larynx
Radiation therapy-induced Central Nervous System Injury
Post-vascular reperfusion syndrome
Replanting the limbs
Burns > 20% of the surface and grade 2
Acute ischemic ophthalmic disorders
Skin wounds secondary to inflammatory processes
Other indications:
Mediastinitis post-sternotomy
Fat cell disease
Otitis
Acute myocardial infarction
Retinitis pigmentosa
Stroke
Multiple sclerosis
Fetoplacental insufficiency
Facial paralysis (Bell)
Discover the hyperbaric medicine center opened in our clinic. Centrokinetic has the top-performing hyperbaric chamber in Bucharest, with multiple medical and anti-aging uses. The Baroks chamber has 5 seats, and operates at a constant pressure of 2.5 atmospheres, being fully automated and having protocols for each condition, and can be used individually for each patient.
Patients who use the clinic's hyperbaric therapy services benefit from:
The only medically accredited hyperbaric therapy chamber in Bucharest, which operates at 2.5 atmospheres (those for aesthetic use go to 1 atmosphere and have no medical benefits).
A safe medical procedure, without irradiation, without pain, without other side effects.
The specialized medical team consists of recovery doctors, orthopedists, rheumatologists, neurologists, and neurosurgeons, meaning a multidisciplinary team specialized in all diseases that can be treated with hyperbaric therapy.
Premium conditions at a fair price. Our clinic is recognized for the conditions offered and for the care of each patient. But we do not need to pay exorbitant prices to have access to quality medical services. At Centrokinetic you can find an affordable and fair price. But note that we do not have a contract with the National Health Insurance House (we do not offer state reimbursed services)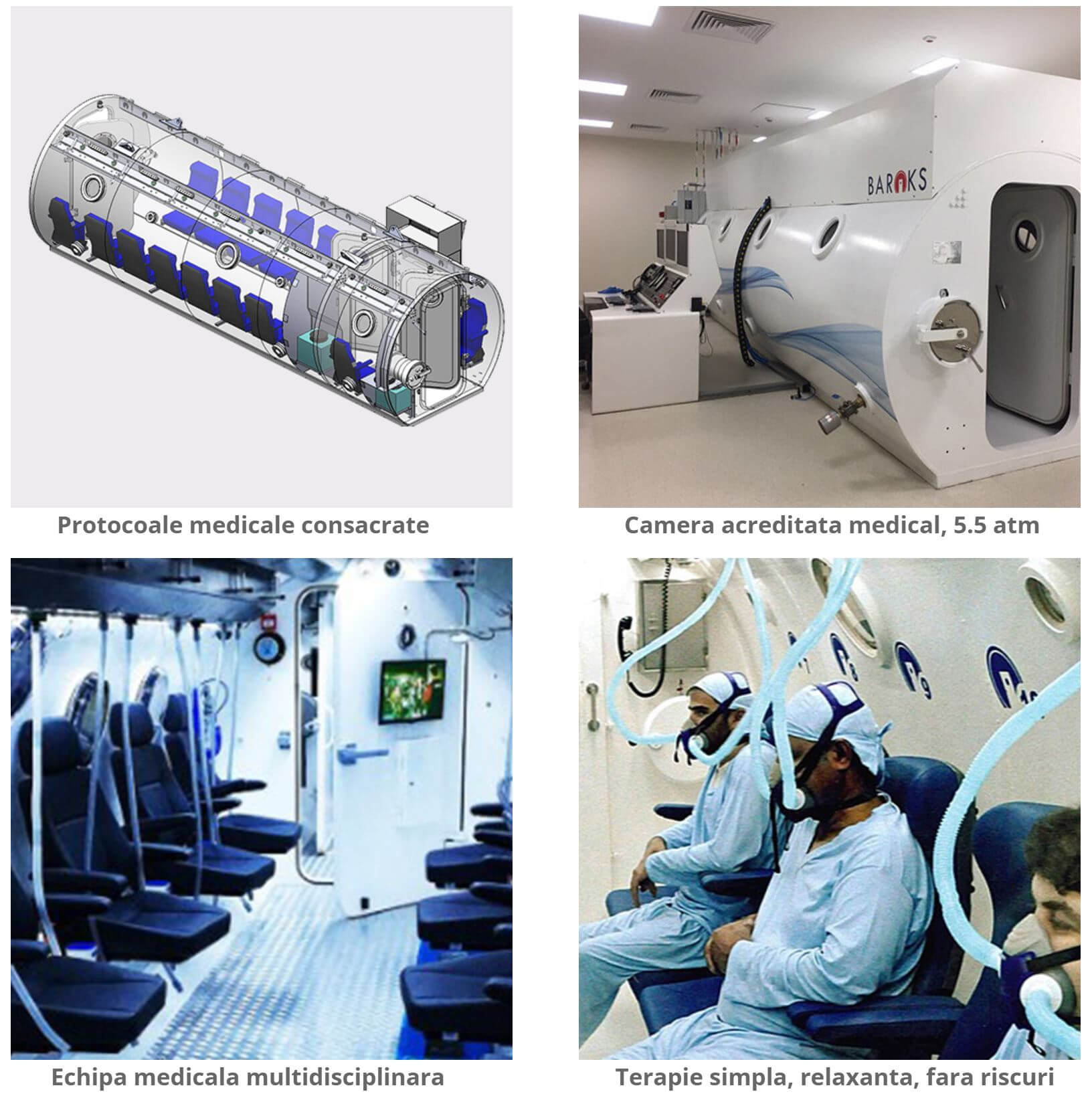 Hyperbaric therapy in sports
In the last decade, we are seeing an increasing number of people participating in sports and recreational activities, at every age level. The number of sports and leisure injuries has also increased as a result. This has forced health professionals to seek more effective and efficient therapeutic interventions in treating such injuries. Hyperbaric oxygen therapy (HBO) helps prevent injuries, but also faster recovery of athletes, improving the short and long term prognosis.
In the USA, to date, many professional athletics teams, including hockey (NHL), football (NFL), basketball (NBA), and football (MLS), use HBO as adjuvant therapy.
However, to date, very little has been published on the benefits of applying hyperbaric therapy and sports injuries. Most clinical trials examining the effectiveness of HBO in treating soft tissue lesions were limited in terms of sample size and study design. Additional research should be conducted to suggest and validate the significant effects of this treatment and continue to induce its importance in sports medicine.

About Centrokinetic
Centrokinetic clinic offers all services necessary for a complete rehabilitation process, from the first consultation to the medical specialist to establish the correct diagnosis, to treatment and recovery.
Centrokinetic is the place where you will find clear answers and solutions for your motricity problems. The clinic is dedicated to osteoarticular conditions and is divided into the following departments:

Find the latest news by following the Facebook, Instagram and YouTube accounts of the Centrokinetic clinic.
MAKE AN APPOINTMENT
FOR AN EXAMINATION
See here how you can make an appointment and the location of our clinics.
MAKE AN APPOINTMENT