What is the Neuron Spectrum 5 electroencephalograph?
Centrokinetic boasts the Neuron Spectrum 5 electroencephalograph, a versatile, 32-channel expandable digital EEG system with many high-quality polygraph channels to record any physiological signal from EOG to short-latency EP.
With the help of this medical device, our team can perform 11 types of EEG analysis, including online/offline mapping and detection of epileptiform activities.
The software allows various EEG analysis types, including amplitude, spectral, coherence, period metric, correlation, cross-correlation, comparative, wavelet, independent component, and epileptiform activity. The software can generate two- and three-dimensional brain maps of the entire recording or a selected fragment. All results are synchronized with the recorded traces
What is an electroencephalogram?

An electroencephalogram is a technique for recording and interpreting the electrical activity of the brain.

Electroencephalogram (EEG) is an important examination in the diagnosis of epilepsy. And it can be indicated in the diagnosis of confusional syndrome, fainting, craniocerebral trauma, tumors, brain infections, providing information about the existence and location of a brain injury or the trigger for epileptic seizures.
In the case of an electroencephalogram, the risks are minimal, but intermittent light stimulation or hyperventilation can cause epileptic seizures and therefore the examination is performed under the supervision of a doctor who can recognize the crisis and will immediately institute appropriate safety and therapeutic measures.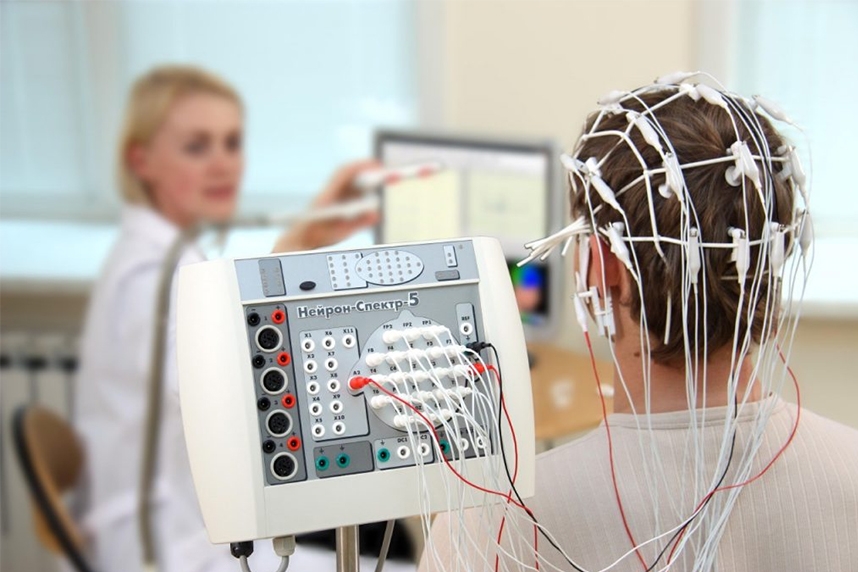 Centrokinetic Clinic has one of the most advanced recovery systems in Bucharest, with a team of physiotherapists with over 15 years of experience. Our medical team worked with countless performance athletes, helping them to return to the sport that consecrated them, being highly appreciated by the Romanian national rugby team, the CSA Steaua Bucharest rugby team, the athletes from Absoluto, but also by many others.

MAKE AN APPOINTMENT
FOR AN EXAMINATION
See here how you can make an appointment and the location of our clinics.
MAKE AN APPOINTMENT