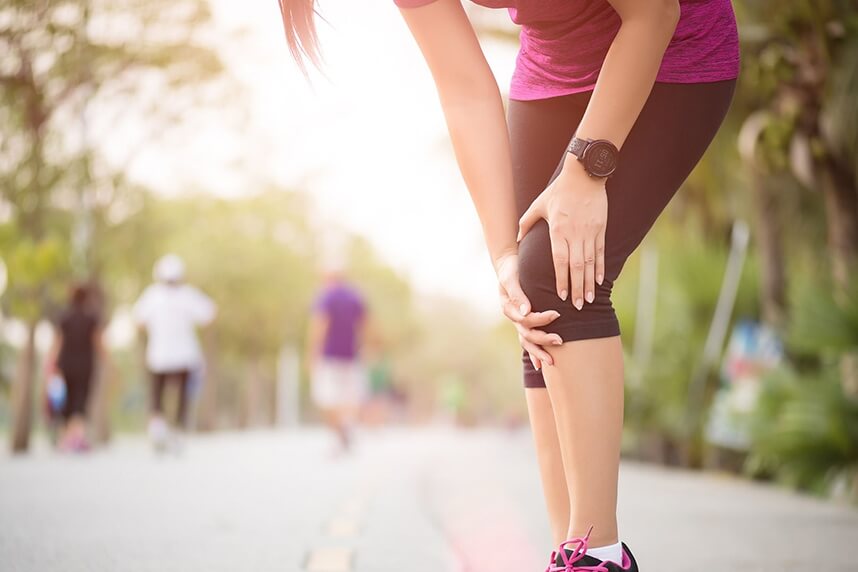 Pentru toate afectiunile traumatice sau cronice ale sistemului musculo-scheletal, clinica privata Centrokinetic, din Bucuresti, este pregatita cu un Departament de Ortopedie integrat, care ofera toate serviciile necesare pacientului, de la diagnosticare pana la recuperarea completa.

Departamentul de Chirurgie Ortopedica al clinicii Centrokinetic este dedicat sa ofere ingrijire excelenta pacientilor si educatie de exceptie pentru medicii tineri, in domeniile chirurgiei ortopedice si a medicinii musculo-scheletice.
Departamentul este format din medici ortopezi, cu activitate chirurgicala vasta, supraspecializati in traumatologie sportiva, chirurgia gleznei si piciorului, artroplastia de genunchi si sold, chirurgia ortopedica pediatrica.

Centrokinetic acorda o mare importanta intregului act medical: investigatii necesare diagnosticarii corecte (ecografie, RMN), interventii chirurgicale si recuperare postoperatorie.
Descopera centrul de imagistica cu RMN deschis in cadrul clinicii noastre. Centrokinetic dispune de un aparat RMN de ultima generatie, dedicat afectiunilor musculo-scheletale, de la nivelul membrelor superioare si inferioare. Aparatul RMN este deschis, astfel incat si persoanele care sufera de claustrofobie pot face aceasta investigatie. Durata de examinare este in medie de 20 de minute.

Osteotomia la nivelul genunchiului este o tehnica chirurgicala prin care se urmareste reaxarea biomecanica a membrului afectat si consta in taierea oaselor, pentru a corecta alinierea genunchiului si pentru a bunatati functia acestuia, cu scopul de a reduce durerile existente la acest nivel.

Osteotomia poate fi indicata in mai multe situatii:
Devieri de aliniament in var sau valg asociate cu artroza uni sau bicompartimentala, dar numai in situatia in care pacientul este tanar si artroza nu este avansata.
Devieri de aliniament asociate cu leziuni ligamentare ale genunchiului (ruptura de LIA, LIP, LCL, CPL, MCL).
Devieri asociate cu leziuni traumatice ale carticlajului articular.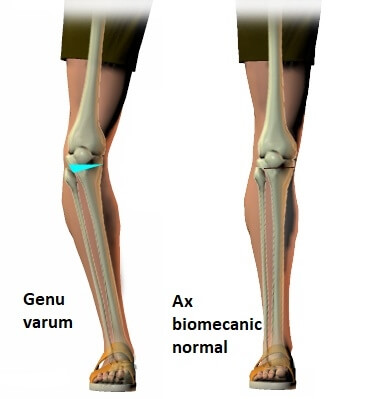 Osteotomia este o optiune foarte buna pentru pacientii cu artrita unilaterala a genunchiului, ceea ce inseamna ca exista o deteriorare pe o singură parte sau "compartiment" a articulatiei genunchiului. Scopul operatiei este de a scadea presiunea existenta, la mers, in zona afectata si de a o transfera pe partea sanatoasa.
Cele mai frecvente doua tipuri de osteotomii ale genunchiului sunt osteotomia tibiala superioara si osteotomia femurala, o remodelare a osului coapsei.
Inainte de a se decide ce tip de osteotomie este necesara, este nevoie de radiografii ale intregului membru, cu ajutorul carora se fac masuratorile necesare. Corectia poate fi extrem de precisa, in cazul unei pregatiri corecte a interventiei chirurgicale. In functie de masuratori, ea poate fi efectuata la nivelul tibiei, a femurului sau in ambele locuri.
Osteotomie tibiala superioara
Poate fi efectuata in partea mediala sau laterala a genunchiului si poate consta in indepartarea oaselor sectionate (osteotomie de deschidere) sau in apropierea lor (osteotomie de inchidere).
Aceasta interventie chirurgicala se face cel mai adesea pentru ameliorarea durerii, imbunatatirea functiei si alinierea corectă a picioarelor.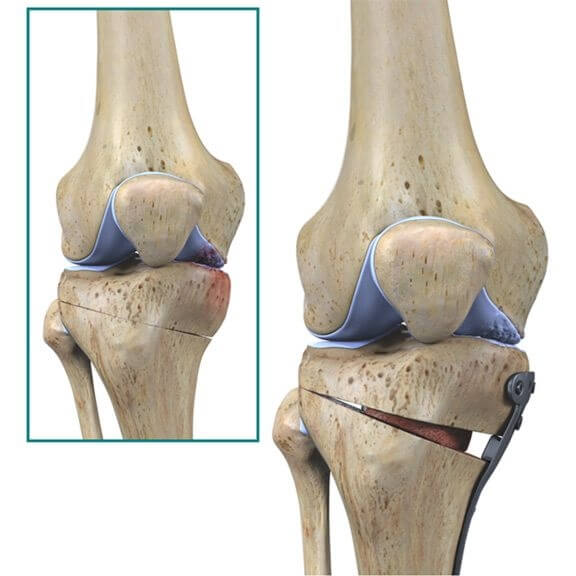 Interventia necesita anestezie spinala (rahidiana), ulterior, pacientul fiind pozitionat pe masa chirurgicala si izolat. Cu ajutorul unui aparat de radiologie, intraoperator se stabilesc reperele osteotomiei. Dupa sectionarea pielii si a tesutului subcutanat, se efectueaza o hemostaza in plaga operatorie. Se evidentiaza reperele osoase si cu aparatul de radiologie se introduc mini-invaziv 3 brose de ghidaj, metalice. Brosele au rolul de a stabili directia corecta a transei de osteotomie, care este efectuata ulterior pe directia broselor.
Fie ca discutam despre o osteotomie de deschidere sau inchidere, echipa noastra medicala foloseste un instrumentar special cu rolul de a efectua o corectie cat mai precisa. Dupa efectuarea osteotomie, osul este fixat cu o placa de titan, premulata, cu rolul de a suprastabiliza zona de osteotomie pana la vindecarea osoasa, iar in zona de osteotomie se poate folosi o grefa ce ajuta la vindecarea transei de osteotomie.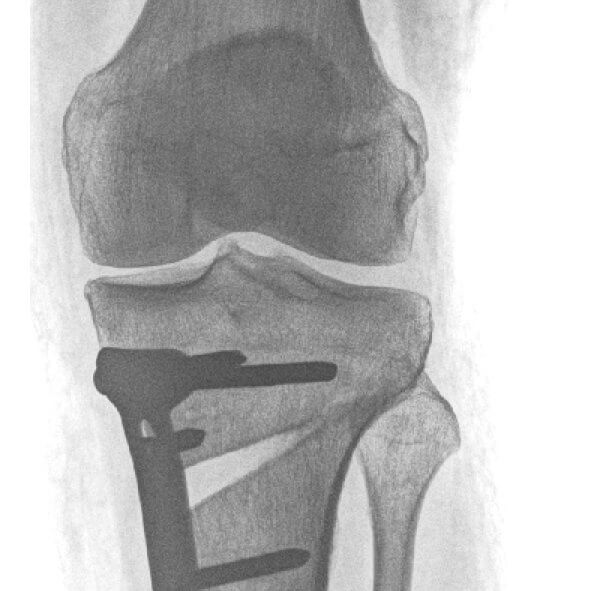 Exista trei tipuri de grefa osoasa:
autogrefa (este recoltata de la aceeasi persoana, fie tot de la nivelul genunchiului, fie de la nivelul osului bazinului)
alogrefa (recoltata de la alta persoana)
grefa artificiala (substituient osos)
Cea mai mare rata de vindecare si integrare o are autogrefa, fiind indicatia de electie a echipei noastre.
Cel mai frecvent tip de osteotomie la genunchi este o osteotomie de deschidere, o intervenție chirurgicala prin care se corecteaza alinierea in var a membrului pelvin, iar forteze din zona interna a genunchiului sunt transferate spre zona externa.
Osteotomie femurală
Osteotomia femurala este efectuata putin deasupra articulatiei genunchiului, atat in zona mediala cat si latelara a genunchiului. Mai putin obisnuite decat osteotomiile tibiale, osteotomiile femurale sunt de obicei facute pentru a corecta o aliniere complexa, pentru a imbunatati functia articulara si pentru a ameliora durerile de artroza.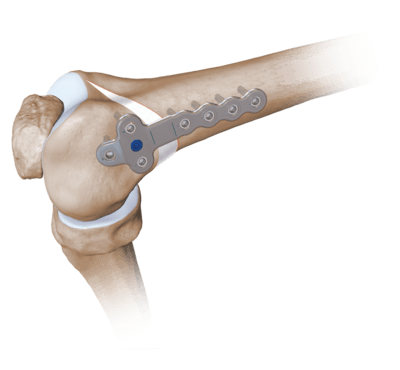 Poate inlocui osteotomia protezarea articulatiei?
Discutia este extrem de complexa, dar nu putem spune ca osteotomia poate inlocui protezarea articulatiei genunchiului. Osteotomia genunchiului este o tehnica chirurgicala extrem de frecvent folosita si putem afirma ca este absolut necesara in anumite situatii, raportandu-ne la faptul ca sanatatea articulatiilor membrului inferior depind de axul biomecanic a membrului.
Cele doua motive principale pentru care pacientii aleg să aiba o osteotomie a genunchiului sunt pentru ca :
pastreaza tesutul natural (anatomia) care inconjoara genunchiul
amana nevoia de inlocuire a genunchiului, rareori o pot inlocui.
O osteotomie permite ca toate elementele anatomice (oase, ligamente, meniscuri, tendoane) sa ramana intacte.
Conservarea genunchiului optimizeaza functia articulara si pastreaza senzatia naturala a genunchiului intr-o gama completa de miscare. Acesti factori pot fi importanti pentru pacientii care doresc sa continue să faca activitati, care necesita un nivel mai ridicat al functiei genunchiului, cum ar fi alergarea, ghemuirea, ingenunchierea si alpinismul. O osteotomie a genunchiului poate elimina sau amana necesitatea unei interventii chirurgicale de inlocuire a genunchiului.
Amanarea interventiei chirurgicale de inlocuire a genunchiului este importanta pentru unii pacienti, deoarece, chiar daca genunchiul artificial are o durata de viata de 15 – 20 de ani, in cele din urma, poate fi necesara o a doua interventie chirurgicala numita revizia protezei de genunchi, o interventie mult mai complexa decat prima. In mod logic, pacientii doresc sa ia alegeri care sa-i ajute sa evite nevoia unei artroplastii de genunchi sau a unei artroplastii de revizie.
Avantajele si dezavantajele potentiale ale osteotomiei genunchiului
Pentru un grup select de pacienti cu artroza la nivelul genunchiului, sub 60 de ani, osteotomia este o optiune rezonabila de tratament chirurgical.
Avantajele potentiale ale osteotomiei genunchiului fata de interventia chirurgicala de inlocuire a genunchiului sunt următoarele:
Articulatia genunchiului, inclusiv ligamentele, este pastrata
Odata vindecat, mulți pacienti pot reveni la activitati cu impact mare, cum ar fi joggingul sau jocul de baschet, ceea ce nu este recomandat dupa protezarea genunchiului
In comparatie cu artroplastia totala a genunchiului, osteotomia genunchiului are dezavantaje potentiale, inclusiv faptul ca:
Necesita mai mult timp de vindecare
Operatia are mai multe complicatii
Necesita folosirea carjelor mai mult timp, fiind o operatie mai restrictiva in perioada postoperatorie
Succesul operatiei depinde de vindecarea osoasa si exista multi factori care regleaza vindecarea oaselor, nu toti sunt cunoscuti sau controlati
Este mai putin de incredere pentru ameliorarea durerii (si poate fi recomandata o inlocuire partiala sau totala a genunchiului)
Nu inlocuieste cartilajul, care este deja pierdut si nu repara cartilajul ramas.
Rezultatele osteotomiei genunchiului variaza, dar de obicei dureaza aproximativ 10 ani, 4-6 ani din momentul in care este probabil sa fie necesara o inlocuire a genunchiului.
Postoperator
Dupa interventie, pacientul ramane internat in spital 1-2 zile. Va primi pe durata spitalizarii medicamente pentru durere si antibiotice. Membrul operat este imobilizat partial intr-o orteza mobila de genunchi.
Acasa
Cu toate ca recuperarea dupa o osteotomie este mult mai rapida fata de o interventie clasica, totusi, vor trece cateva luni pana o sa recuperati in totalitate articulatia genunchiului. Trebuie sa va asteptati la durere si disconfort, cel putin o saptamana postoperator. Gheata va duce la scaderea durerii si a inflamatiei.
Trebuie sa aveti grija sa nu dormiti pe genunchiul operat in primele saptamani, pentru ca durerile si disconfortul se pot accetua. Puteti face baie, dar fara sa udati bandajul si inciziile. Firele se suprima la 14 zile postoperator.
Kinetoterapia joaca un rol foarte important in programul de reabilitare, iar exercitiile trebuie urmarite de catre un kinetoterapeut pana la terminarea perioadei de recuperare.
Este foarte important sa urmati cu strictete si seriozitate programul de recuperare pentru ca interventia chirurgicala sa fie un succes. Echipa noastra medicala lucreaza in medie cu pacientul dupa aceasta interventie, 18-24 saptamani pana la recuperarea completa a genunchiului.
In urma oricarei interventii chirurgicale, recuperarea medicala joaca un rol esential in reintegrarea pacientului sociala, profesionala si familiala. Pentru ca urmarim rezultatul optim pentru fiecare pacient care intra in clinica, medicina de recuperare de la Centrokinetic se bazeaza pe o echipa de medici si kinetoterapeuti experimentati si pe protocoale medicale standardizate .
Centrokinetic e locul in care vei gasi raspunsuri si solutii clare pentru problemele tale de motricitate. Clinica dedicata afectiunilor osteoarticulare e impartita in urmatoarele departamente specializate:
Afla noutatile urmarind conturile de Facebook si YouTube ale clinicii Centrokinetic.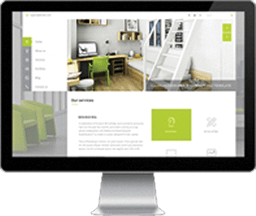 MAKE AN APPOINTMENT
Because in our clinic every treatment is based on a diagnosis and is done under medical supervision.
INFO: Centrokinetic does not collaborate with the National Health Insurance House.
CONTACT US
MAKE AN APPOINTMENT
FOR AN EXAMINATION
See here how you can make an appointment and the location of our clinics.
MAKE AN APPOINTMENT