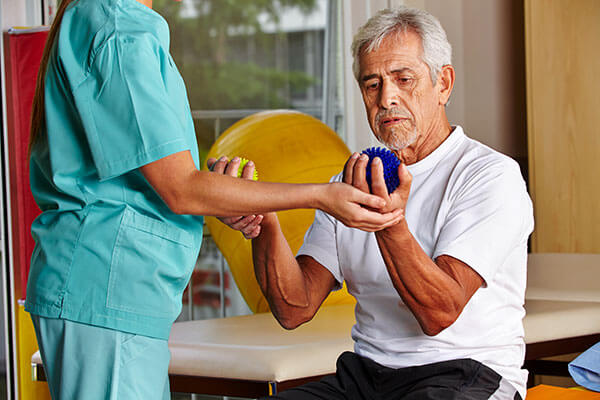 Centrokinetic has a Department dedicated to Neurological Diseases, in which vertebral elongations are performed. It covers an area of 120 square meters and is equipped with the latest equipment, which meets the needs of our patients and is necessary for optimal treatment. Our physiotherapists are licensed and overspecialized in physiotherapy and special motor skills, having numerous courses, among which we mention:
Aquashape Fitness Scandinavia Workshop
Calarco Method kinesiotaping course
Services - Department of Neurology
The services of the neurology department at Centrokinetic include all the benefits of a neurological clinic in Bucharest, being divided in the following categories:
An initial check-up with the neurologist: first symptoms, a check-up with recommended investigation ticket or direct diagnosis
A check-up with the recovery physician: after establishing the diagnosis, in order to concretize a recovery program
Additional investigations: ultrasound or MRI.
Control check-up: after the recovery stage, after surgery or after performing procedures both at the neurologist and at the recovery doctor
EMG : Dr. Bogdan Rotaru and Dr. Fatulescu are overspecialized in electromyography
EEG: Dr. Simion Laurentiu being specialized in this investigation
Transcranial electrical stimulation: is a simple, painless method of treatment that uses electrical flow around 1mA intensity, and induces long-term positive brain changes.
Within the neurology department we enjoy the presence of a medical team with very rich experience, consisting of:
Why is recovery from Parkinson's disease important?
The purpose of recovery from Parkinson's disease is to:
Promoting functional mobility
Decelerating the evolution of functional limitation
Build self-confidence, alleviation of the patient's anxiety and depression
Maintaining patient independence
Improving the patient's quality of life
In the initial period of the disease, you can do simple gymnastic exercises, at home or outside, possibly performed with the help of the family.
The patient is taught to execute a daily program, consisting of:
Supine position activities to maintain ligament, muscle, joint suppleness. If these exercises are performed in the morning, they will help improve mobility for the whole day. They can be performed in your living room or your backyard;
activities in a sitting position contribute to maintaining balance;
activities in a vertical position improve coordination and balance in the free movement of the upper extremities;
rhythmic walking with the movements of the arms in brisk steps, either with the help of a pair of ski poles (Nordic Walking) or with a companion. It improves arm balance, balance, and breathing. We mention that for the patient with Parkinson's disease, small support (cane, a person's arm) generates confidence in walking and stability.
Starting with stage II Hoehn and Yahr's disease, there are difficulties in self-care:
daily activities (ADL) require extra time
alternating ON-OFF periods affects performance
the safety of gestures is compromised
decreases desire/motivation for ADL
There are difficulties in professional activity and leisure:
decrease participation in competitive activities
diminish energy / desire / motivation
social anxiety occurs
Physical therapy has several objectives:
Improving mobility and preventing joint amplitude limitations
Improving movement speed
Improving movement coordination
Decreased rigidity
Prevention and amelioration of atrophies
Improving gait
Improved breathing
Improving mimic
In patients with Parkinson's, physical therapy is applied to both the limbs and the spine (with an emphasis on the cervical spine), using passive and active techniques.
What is transcranial electrical stimulation?
Transcranial electrical stimulation is gaining more and more ground nowadays, being a therapy with very good results in many neurological diseases, but also for improving sports performance, or for increasing intellectual capacity.
It can be used in neurological disorders as first-line therapy, or in combination with drug treatments, and remains an alternative if patients acquire drug resistance (drug resistance) or have not obtained favorable results after existing classic treatments. Transcranial electrical stimulation (TES) is a simple, painless method of treatment that uses an electric current of around 1mA, and induces long-lasting positive brain changes.
The basic idea of transcranial electrical stimulation therapy is a simple one: practically a low-frequency current, generated by a battery is delivered to the brain using electrodes of different types and sizes. The electrodes mounted on the scalp will deliver the current on the cortical area of interest, the current being subsequently recruited by other electrodes (return) which can also be positioned at the level of the head or the level of the neck. Through the electrodes, the device generates low-frequency currents and electric fields (measured in V / m) on the brain. These electric fields are those that modulate neural activity, producing modulatory effects of neural activity, such as excitability or inhibitors, but also produce long-lasting plasticity effects, involving synaptic changes. This aspect emphasizes in the most obvious way, the clinical utility of tES therapy.
At Centrokinetic you will find Dr. Edis Mustafa , a specialist in medical recovery, who specializes in tES therapy, treating over 200 patients, and none of them had any side effects. Dr. Mustafa did his doctorate in tES therapy, being the most experienced doctor in Romania.
Our specialist, Dr. Edis Mustafa, confidently recommends this new therapeutic approach, with exceptional personal results similar to those in various international studies published with patients treated so far.
Prices
You can find here a detailed list of the prices of individual services. But any correct recovery process is based on a mixed plan of therapies and procedures, customized according to the condition, stage of the condition, patient profile, and other objective medical factors. As a result, in order to configure a treatment plan, with the therapies involved and the prices related to the plan, please make an appointment here for an initial consultation.
MAKE AN APPOINTMENT
FOR AN EXAMINATION
See here how you can make an appointment and the location of our clinics.
MAKE AN APPOINTMENT