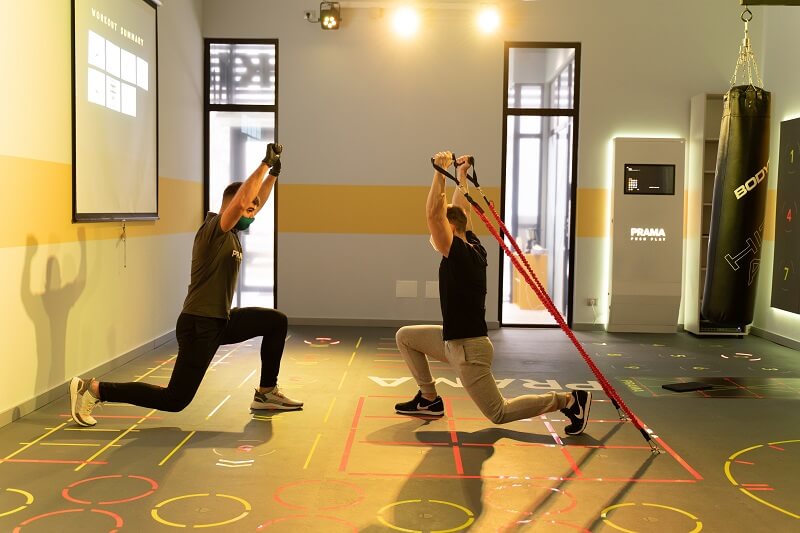 Physical therapy

Centrokinetic is one of the best performing recovery clinics in Bucharest, with a very experienced team of physiotherapists, overspecialized in sports traumatology, with over 17 years of experience.
Our team has worked with countless performance athletes, helping them to return to the sport that consecrated them, being highly appreciated by the Romanian national rugby team, the CSA Steaua Bucharest rugby team, the athletes from Absoluto, the Romanian Federation of Fights, but also by many others.
Medical rehabilitation clinic
Our physiotherapists are specialized in sports trauma, orthopedics and spinal disorders . Our team works according to already established recovery protocols, implemented in most clinics worldwide. Every surgical condition, orthopedically treated, or trauma (knee injury, hip, back, lumbar, cervical spine, heel fracture) has a well-established recovery protocol. Among the most established, we count:
Anterior cruciate ligament rupture
Meniscus rupture
Meniscus suture
Rupture of the posterior cruciate ligament
Collateral ligament injuries
Rupture of the rotator cuff
Shoulder instabilities
Acromio-clavicular disjunction
Brachial biceps muscle rupture
Subacromial impingement
Adhesive capsulitis (Frozen shoulder)
Ankle instabilities
Achilles tendon rupture
Upper and lower limb fractures
Scoliosis
kyphosis
Lumbar discopathy
Disc herniation
If you haven't found the best physical therapist in Bucharest, Centrokinetic is the right place. One of the objectives of our physical therapist is your full recovery and also the improvement of your special motricity. They can help you improve the mobility you need for a better quality of life.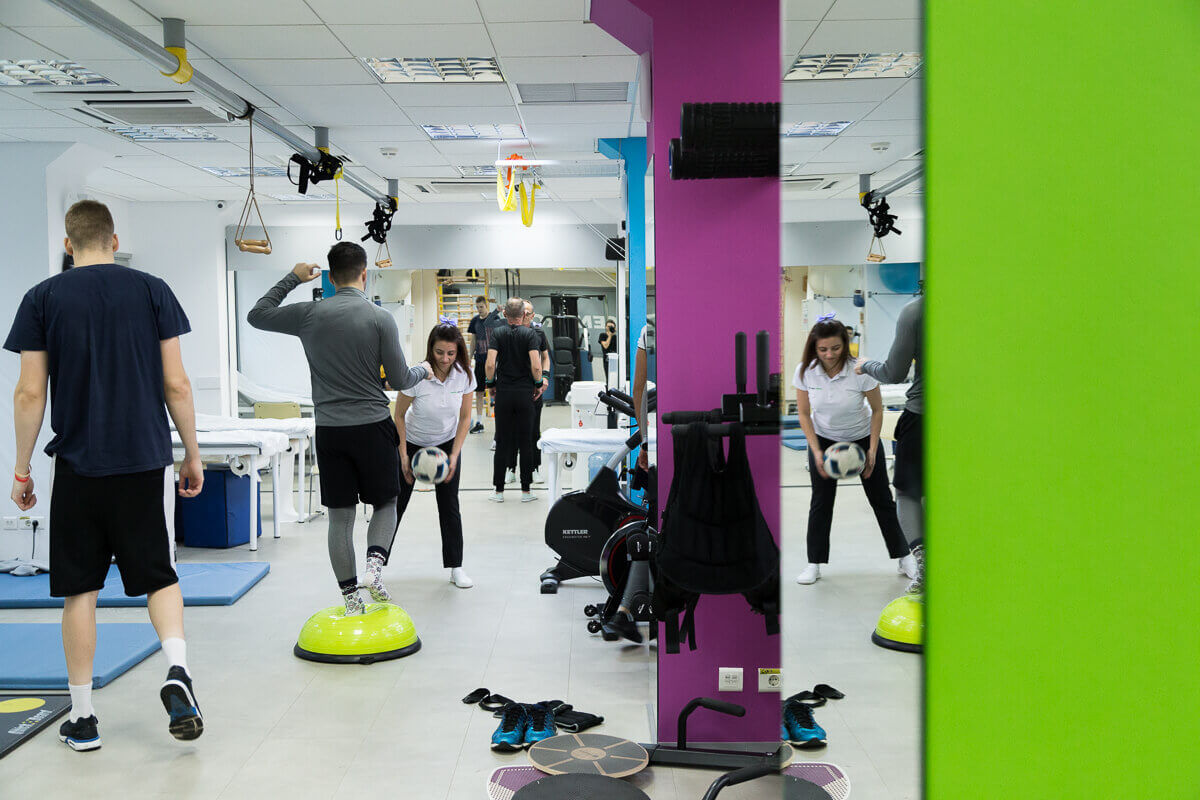 Info: Centrokinetic does not collaborate with CNAS, so we do not accept referral forms

About Centrokinetic
Centrokinetic clinic offers all services necessary for a complete rehabilitation process, from the first consultation to the medical specialist to establish the correct diagnosis, to treatment and recovery.
Centrokinetic is the place where you will find clear answers and solutions for your motricity problems. The clinic is dedicated to osteoarticular conditions and is divided into the following departments:

Find the latest news by following the Facebook, Instagram and YouTube accounts of the Centrokinetic clinic.
What is physical therapy?

Physical therapy is defined as therapy through movement or medical gymnastics and is recommended in the treatment of orthopedic and neuro-motor conditions (trauma, postoperative period and chronic conditions). This should be initiated by the orthopedist and continued under the guidance of the recovery physician.

Physical therapy has the following objectives:

- Joint mobility: it is important for resumption of all types of movements
- Muscle toning: it will contribute to a greater stability of the targeted joints. Maintaining the strength of these muscles can lead to the disappearance of pain and can prevent future injuries.
Conditions for which physical therapy is recommended
Physical therapy is especially useful in remedying disability and promotes mobility, excellent motor function and quality of life. The treatment aims to improve and treat the symptoms in the case of the following conditions:

muscle problems
metabolic disorders (obesity)
orthopedic-traumatic conditions
respiratory diseases
neurological disorders such as strokes, craniocerebral or vertebro-medullary traumas, Parkinson's disease and paralysis
rheumatic conditions such as rheumatoid arthritis, hip osteoarthritis, gonarthrosis
cardiovascular diseases such as varicose veins, ischemic heart disease, etc
congenital diseases (neuro-muscular dystrophy, congenital hip dislocation, tetraplegia).
In which cases physical therapy is not recommended?

In recent years, the concept of initiating physical therapy after a trauma has changed a lot. In the past, patients were immobilized for long periods of time, considering that this approach will lead to safe healing. Numerous studies have shown that movement brings much greater benefits compared to immobilization.

If you are looking for an alternative to surgery or analgesic medication, or during post-operative recovery from orthopedic surgery (trauma or sports medicine), you should consider a physiotherapist.

For example, low back pain is overtreated, although there is ample evidence that physical therapy is a much more cost-effective method of treatment that often avoids costly imaging investigations such as MRI and the need for surgery or injections.

Physical therapy for children

Pediatric physical therapy is addressed to the infant a few days of age until the age of 18 years. Our team of professionals with 7 years of experience in treating and diagnosing children is at your disposal to go through the road of recovery together.
Rehabilitation of orthopedic conditions adresses to deviations of the spine (scoliosis, kyphosis, lordosis), chest deformities, postural and congenital torticollis, plagiocephaly / scapocephaly / brachycephaly, deviations of the limbs, especially of the lower limbs, genu varum, genu valgum, genu recurvat ), of those at the level of the foot (metatarsus adductus, varus foot, talus valgus, flat and hollow foot, etc.), as well as of those at the level of the hips (coxaantetorsa, coxaretrotorsa, coxavara, coxavalga, pelvic deformities, hip dysplasias etc.).
We also follow the child's long-term muscular and skeletal development: first steps, first sport, correct positions during play hours and what a healthy lifestyle means - we start from imprinting of the desire to move and play sports, and then together we develop coordination and agility, balance and strength. These activities have stimulating effects on growth and physical development, psychomotor development and ability to concentrate.
The duration of a physical therapy session is 40-45 minutes. The sessions are individual and include exercises adapted to each patient. We work exactly the muscles involved in and, most importantly, we teach the parent to work with the child at home for a fast and better recovery process.
Orthopedic and neuro-motor disorders encountered among children and babies are treated in the special department of Pediatric Medical Recovery. This department has the following services: pediatric physical therapy, baby gym, speech therapy services, obesity control, postural analysis, neuro-motor development analysis, psychological counseling, parental counseling.
How do you choose a good physiotherapist?
A good physiotherapist has a rich experience and specialization and overspecialization courses. It will take into account all relevant factors: the patient's somatotype, age, the condition he has, the type of activity he carries out, the stage of evolution of the disease, or the existence of other conditions. Communication skills also make the difference between a physiotherapist who knows how to motivate his patient and one who quickly gives up.
Centrokinetic Clinic has a very experienced team of physiotherapists, overspecialized in sports traumatology, with an experience of over 15 years.

Our team has worked with countless performance athletes, helping them return to the sport that consecrated them, being highly appreciated by the Romanian national rugby team, the CSA Steaua Bucharest rugby team, the athletes from Absoluto, the Romanian Federation of Fights, but also by many others.
Our team is permanently coached by Kt. Christos Poulis , with 18 years of experience, graduated in sport rehabilitation at the faculty in Liverpool 2001, master in NY in sports physiotherapy 2003, physical trainer of numerous club and national basketball teams, including: the national basketball team of Greece, Romania, club teams Panathinaikos Athens, AEK Athens, CSM Bucharest.
Physical therapy has been shown to be as effective as surgery for meniscal ruptures, gonarthrosis, rotator cuff injuries or degenerative intervertebral disc injuries.
Prices
You can find here a detailed list of the prices of individual services. But any correct recovery process is based on a mixed plan of therapies and procedures, customized according to the condition, stage of the condition, patient profile, and other objective medical factors. As a result, in order to configure a treatment plan, with the therapies involved and the prices related to the plan, please make an appointment here for an initial consultation.
At Centrokinetic, the best doctors and therapists are at your disposal for any joint or musculoskeletal disorder, from initial consultation and complete investigations in the clinic, to treatment and complete medical recovery in spinal, traumatic or post-surgical conditions.
MAKE AN APPOINTMENT
FOR AN EXAMINATION
See here how you can make an appointment and the location of our clinics.
MAKE AN APPOINTMENT