What is laser therapy?
Centrokinetic offers you an alternative to injections and other invasive treatments with MLS laser therapy. Laser therapy is a non-invasive, pain-free, medication-free way to help you recover from painful limb or spine conditions. Laser therapy is an effective alternative to other treatments, especially when you have too much pain to tolerate other traditional treatment methods.


How does the MLS-Laser device work?
In simple terms, laser energy begins the healing process and decreases pain at the same time. Laser energy photons penetrate deep into the tissue and accelerate cellular reproduction and growth. Once absorbed by the body, the specific wavelengths of light used by the laser promote a cascade of cellular activity, including:
increase enzyme production
stimulation of mitochondria
increased lymphatic vasodilation and drainage
decreases the formation of collagen fibers to prevent the formation of scar tissue
Laser energy begins the healing process and decreases pain at the same time. As a result of exposure to the MLS Laser, the tendons, ligaments, and muscles cells can be repaired up to 30% faster, returning to normal life quickly and safely!
Has this technology been studied and scientifically proven?
Laser therapy has been widely used in Europe by physiotherapists, nurses, and doctors since the 1970s. After FDA approval in 2003, laser therapy began to be widely used in the United States. Since then, more than 3,000 studies have been effective in treating many conditions.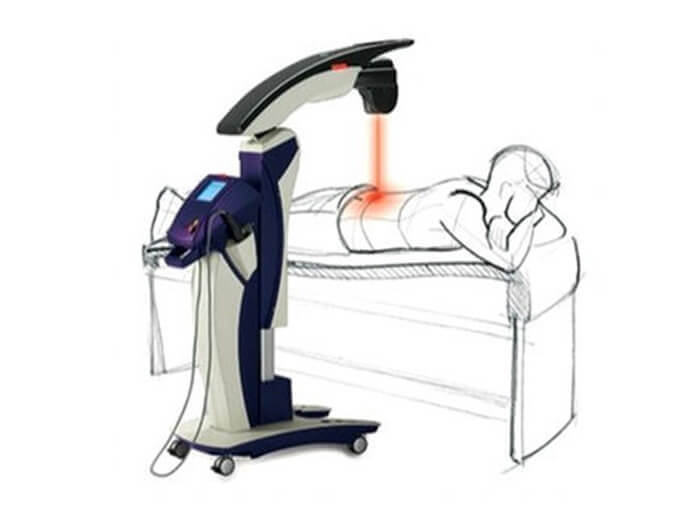 Centrokinetic Clinic has one of the most advanced recovery systems in Bucharest, with a team of physiotherapists with over 15 years of experience. Our medical team worked with countless performance athletes, helping them to return to the sport that consecrated them, being highly appreciated by the Romanian national rugby team, the CSA Steaua Bucharest rugby team, the athletes from Absoluto, but also by many others.

MAKE AN APPOINTMENT
FOR AN EXAMINATION
See here how you can make an appointment and the location of our clinics.
MAKE AN APPOINTMENT