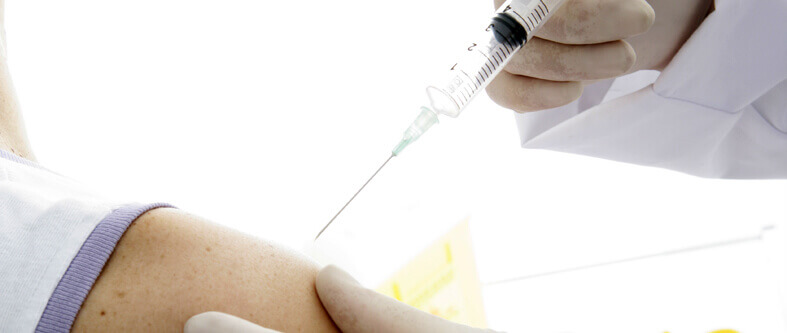 For all traumatic or chronic diseases of the musculoskeletal system , the private Centrokinetic clinic in Bucharest is prepared with an integrated Orthopedics Department , which offers all the necessary services to the patient, from diagnosis to post-treatment recovery.

The department consists of orthopedic doctors, with surgical activity within the Sanador and Medlife medical systems, specialized in sports traumatology and in ankle and foot surgery, in knee and hip prosthesis. Centrokinetic has built a team of renowned orthopedists, who offer diagnostic consultations and make treatment plans.
What are intraarticular and periarticular infiltrations?
Treatment with intraarticular or periarticular infiltrations is a quick remedy for pain and mobility restrictions. Infiltrations are often part of a more complex treatment plan, but there are also situations in which we use them as maintenance treatments, such as infiltrations with anti-inflammatory drugs and hyaluronic acid in osteoarthritis, or infiltrations with PRP or Sanakin. in incipient chondromalacia in young people. The art of a good, correct infiltration is to select the right patient, the optimal dose, and the right drug injected right into the affected tissue at the right time.
As scientific support, it has been shown that infiltrations are much more effective if the injection takes place intra-articularly compared to systemic injections of the drug. Also, periarticular infiltrations have proven their superiority compared to systemic, intramuscular, or intravenous administration.
The Department of Orthopedics, Recovery and Interventional Imaging consists of experienced doctors, with rich experience in performing intraarticular and periarticular infiltrations:
The role of infiltrations
At the Centrokinetic clinic, our medical team performs infiltrations with:
Anti-inflammatory solutions or corticosteroids: are usually used for several types of musculoskeletal problems, such as tendinitis, tenosynovitis, bursitis, fasciitis, osteoarthritis, muscle injuries, ligament injuries. Corticosteroids are natural hormones made from cholesterol in the adrenal glands. In clinical practice, steroids are used for their powerful anti-inflammatory effects. Corticosteroids should not be confused with anabolic steroids, which are known to be used by athletes to increase muscle mass and strength. Corticosteroids used in resentment are injected all over the world, the administration doses are minimal, on average 0.4mg, and the side effects are similar in elderly patients, by temporarily increasing (2-3 days) blood pressure and blood sugar.
Sterile viscoelastic solutions (hyaluronic acid): are performed mainly intraarticularly, both in the large joints (knee, shoulder, hip, ankle) and in the small ones (fist, elbow, metatarsophalangeal, or interphalangeal). The role of these infiltrations is multiple: protector of the articular cartilage through the viscous properties of the injection - the molecules of Hyaluronic Acid in the synovial fluid, act as a lubricant, protecting the articular surfaces from mechanical damage, by elastic properties - under the pressure generated by the joint load (bodyweight), hyaluronic acid in a synovial fluid acts as a shock absorber, protecting cartilage from compressive trauma, a nutrient for joint cartilage, synovial tissue protector: Hyaluronic acid is a protective barrier for the synovial membrane and masks the receptors for inflammation in the knee, reducing inflammation.

Numerous studies have shown that viscosupplementation has a chondroprotective effect (protecting the articular cartilage). It has been shown that repeated intra-articular injections of hyaluronic acid could delay the progression of the osteoarthritis process. Studies have shown that high molecular weight viscoelastic solutions have the most effective therapeutic effect. It appears that injected intra-articular hyaluronic acid modulates pain perception directly by inhibiting nociceptors or indirectly by binding to substance P - a small peptide involved in pain transmission. Our medical team is overspecialized in Germany in infiltrations, in the limbs and spine.
Infiltrations with PRP (platelet hyperconcentrate): have been used since 1978 in the USA, in the treatment of musculoskeletal disorders, with extraordinary results. The infiltration lasts on average 40 minutes, is painless, and consists of collecting peripheral blood (from the vein) of the patient, on average between 60 and 180 ml, centrifugation 20-25 minutes to separate platelets from other blood cells, and injection into the same stage in the affected area. Centrokinetic offers patients treatments with the best PRP kits in the world, brought from the USA, from Arthrex and Magellan. The rationale for using this type of infiltration is to initiate and accelerate the natural process of tissue healing and regeneration by releasing platelet-derived growth factors directly into the affected tissue. According to current studies, soft tissue lesions and cartilage lesions are receptive to this treatment. Some of these include the following: tendinitis (epicondylitis, plantar tendonitis, Achilles, patellar, etc.), tendinosis, tendon ruptures, tendon degenerative lesions, muscle ruptures, cartilage lesions (arthrosis). The therapy also has a postoperative indication in meniscus suture, ligamentoplasty, sutures/tendon reinsertions (rotator cuff, Bankard, Achilles tendon, patellar tendon, quadrigeminal, etc.).
The risk of infection is minimal, all kits on the market offer harvesting, spinning, and injection techniques that follow the rules of asepsis. For athletes, this treatment is not a doping method, which was certified by the World Anti-Doping Agency (WADA) in 2009. In the USA, the treatment was accepted without controversy in the National Football League (NFL). ), in the National Basketball Association (NBA), and the Major League Baseball (MLB), currently being a therapy very often used in sports injuries, and especially in muscle tears.
Sanakin infiltrations are a regenerative therapy initiated and used in Germany for 15 years, which consists of harvesting the body's growth factors, multiplying them by incubation, and reinjecting them into the affected area. The duration of the treatment is 3 hours, performing 3-5 procedures, at 1-week intervals. The major indications are chronic tendinitis (epicondylitis, plantar tendonitis, Achilles, patellar, etc.), and articular cartilage lesions (arthrosis). It also has excellent results in the treatment of joint and periarticular pain.

Sanakin is an autologous cytokine-rich serum (ACRS) derived from the patient's blood. To ensure high tolerability, this technology completely avoids the use of any artificial additives. This special serum, rich in autologous cytokines, can activate the body's ability to self-heal by producing positive interleukins and growth factors. These are crucial to intervene in the pain cascade, causing it to stop and the subsequent onset of the regeneration process.

Sanakin treatment has many advantages:
It is natural and safe
Stimulates the body's regenerative abilities
It has a very high tolerability
It is impossible to overdose
The duration of therapy is unlimited
Improves quality of life
It is easy to use
It can be quickly administered
Prices
You can find here a detailed list of the prices of individual services. But any correct recovery process is based on a mixed plan of therapies and procedures, customized according to the condition, stage of the condition, patient profile, and other objective medical factors. As a result, in order to configure a treatment plan, with the therapies involved and the prices related to the plan, please make an appointment here for an initial consultation.
Centrokinetic is the place where you will find clear answers and solutions for your motricity problems. The clinic is dedicated to osteoarticular diseases and is divided into the following specialized departments:

Orthopedics , a department composed of an extremely experienced team of orthopedic doctors, led by Dr. Andrei Ioan Bogdan, primary care physician in orthopedics-traumatology, with surgical activity at Medlife Orthopedic Hospital, specialized in sports traumatology and ankle and foot surgery. .
Pediatric orthopedics , where children's sports conditions are treated (ligament and meniscus injuries), spinal deformities (scoliosis, kyphosis, hyperlordosis) and those of the feet (hallux valgus, hallux rigidus, equine larynx, flat valgus, hollow foot).
Neurology , which has an ultra-performing department, where consultations, electroencephalograms (EEG) and electromyography (EMG) are performed.
Medical recovery for adults and children , department specialized in the recovery of performance athletes, in spinal disorders, in the recovery of children with neurological and traumatic diseases. Our experience is extremely rich, treating over 5000 performance athletes.
Medical imaging , the clinic being equipped with ultrasound and MRI, high-performance devices dedicated to musculoskeletal disorders, and complemented by an experienced team of radiologists: Dr. Sorin Ghiea and Dr. Cosmin Pantu, specialized in musculoskeletal imaging.
Rheumatology, the department that examines and treats non-surgical musculoskeletal disorders.
Find the latest news by following the Facebook and YouTube accounts of the Centrokinetic clinic.

For appointments and specific questions, access the contact page below.

MAKE AN APPOINTMENT
FOR AN EXAMINATION
See here how you can make an appointment and the location of our clinics.
MAKE AN APPOINTMENT