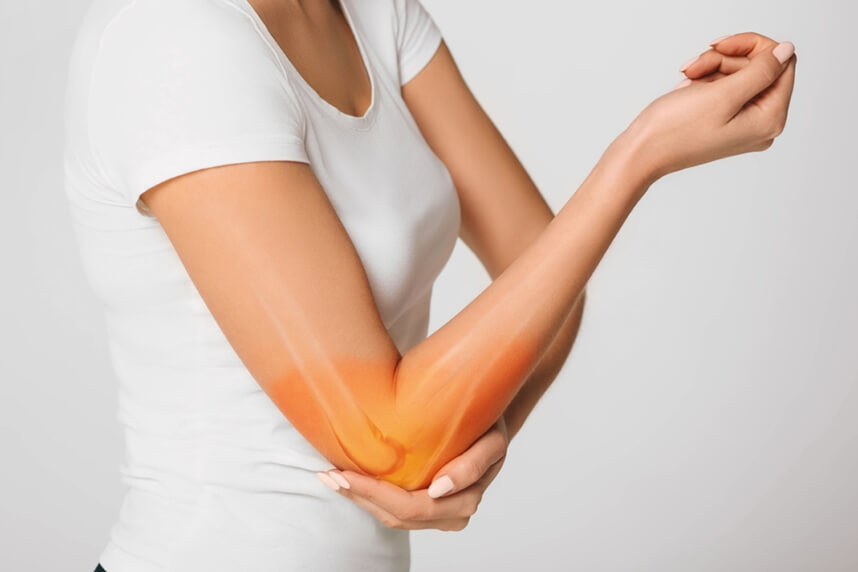 Pentru toate afectiunile traumatice sau cronice ale sistemului musculo-scheletal, clinica privata Centrokinetic, din Bucuresti, este pregatita cu un Departament de Ortopedie integrat, care ofera toate serviciile necesare pacientului, de la diagnosticare pana la recuperarea completa.
Departamentul de Chirurgie Ortopedica al clinicii Centrokinetic este dedicat sa ofere ingrijire excelenta pacientilor si educatie de exceptie pentru medicii tineri, in domeniile chirurgiei ortopedice si a medicinii musculo-scheletice.
Departamentul este format din medici ortopezi, cu activitate chirurgicala vasta, supraspecializati in traumatologie sportiva, chirurgia gleznei si piciorului, artroplastia de genunchi si sold, chirurgia ortopedica pediatrica.
Centrokinetic acorda o mare importanta intregului act medical: investigatii necesare diagnosticarii corecte (ecografie, RMN), interventii chirurgicale si recuperare postoperatorie.
Descopera centrul de imagistica cu RMN deschis in cadrul clinicii noastre. Centrokinetic dispune de un aparat RMN de ultima generatie, dedicat afectiunilor musculo-scheletale, de la nivelul membrelor superioare si inferioare. Aparatul RMN este deschis, astfel incat si persoanele care sufera de claustrofobie pot face aceasta investigatie. Durata de examinare este in medie de 20 de minute.

Fractura de cap radial se produce prin incarcare axiala directa, datorita stresului aparut intre capul radial si capitulum, prin devierea cotului in valg (intre brat si antebrat apare un unghi obtuz deschis extern) sau intr-o luxatie de cot.
Cel mai frecvent apare in urma unui traumatism prin cadere cu mana si cotul in extensie. Fracturile izolate de cap radial sunt usor de tratat. Insa cheia succesului in tratamentul fracturii de cap radial este identificarea si tratarea afectiunilor asociate. Acest principiu este foarte important daca fractura este cu deplasare sau daca implica tot capul radial. In cazul unei fracturi complexe de cap radial, trebuiesc investigate si diagnosticate fractura asociata de capitulum sau ruptura ligamentului colateral medial al cotului, de aceea consideram ca este absolut obligatoriu sa investigam cotul prin RMN inainte de interventia chirurgicala.
Indicatia de tratament chirurgical
In functie de tipul de fractura, de gradul de cominutie si de gradul deplasarii fragmentelor, in prezent au indicatie absoluta de tratament chirurgical fracturile simple cu minima deplasare, care blocheaza miscarea de pronatie-supinatie, fracturile cominutive si fracturile cu deplasare.
Factorii care influenteaza tratamentul chirurgical, tehnica aleasa si momentul operator, sunt:
gradul de cominutie al fracturii
 Un numar mai mare de 3 fragmente nu au indicatie de reconstructie si fixare cu placa si suruburi sau suruburi individuale, decat daca sunt suficient de mari ca sa poata fi fixate ferm.
gradul de osteoporoza, care uneori nu permite fixarea fracturii si determina medicul sa faca rezectia capului radial
marimea fragmentelor: daca sunt foarte mici nu pot fi reatasate si fixate ferm, astfel ca se indica rezectia capului radial
gradul de impactare si deviere a capului radial, care uneori nu permite refacerea anatomica si fixarea ferma a fragmentelor.

Optiunile tratamentului chirurgical
Rezectia capului radial: fara inlocuirea lui cu o proteza este inca o metoda foarte buna de tratament, mai ales la pacientii varstnici, dar si in cazul unei fracturi-luxatii de cot, fara fractura de proces coronoid.
Rezectia capului radial cu inlocuirea acestuia cu o proteza. Din punct de vedere al stabilitatii, inlocuirea capului radial cu o proteza ofera rezultate functionale bune, initial, dar in timp determina artrite repetate, sinovita si in final, artroza.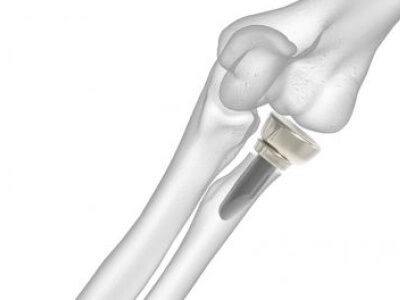 Rezectia partiala de cap radial
In prezent s-a renuntat la aceasta optiune chirurgicala, datorita gradului de instabilitate prezent postoperator, lipsei formei anatomice a capului radial care va conduce in timp (cativa ani) la artroza de cot, cu limitarea miscarilor articulare si dureri foarte mari.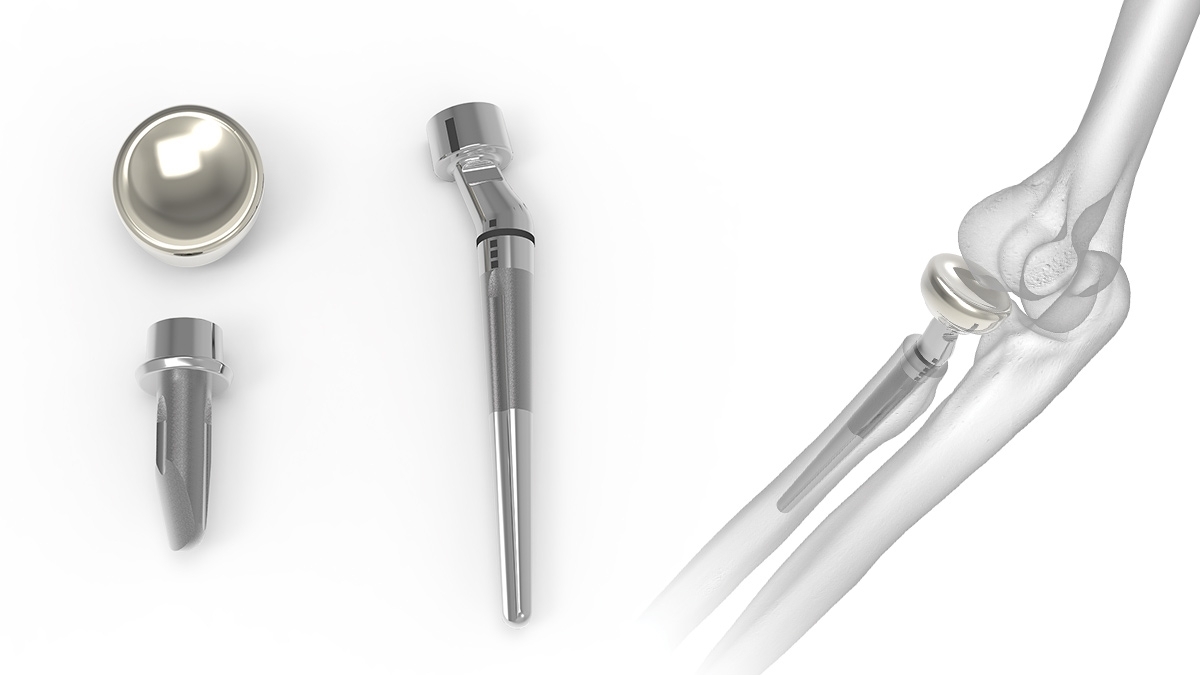 Reducerea fracturii si fixarea cu placa si suruburi sau suruburi individuale: are indicatie ori de cate ori exista sansa unei refaceri anatomice a capului radial si a unei fixari stabile, ferme. Este cea mai frecventa optiune de tratament chirurgical.

Tehnica chirurgicala
In general se opteaza pentru o anestezie loco-regioanala, la nivelul plexului brahial, care presupune o injectie latero-cervicala sau axilara, prin care membrul este anesteziat 12 ore.

Exista mai multe tipuri de aborduri chirurgicale:
Kocher: intre muschiul anconeu si muschiul extensor ulnar al carpului. Este cel mai frecvent utilizat abord, este posterior, relativ simplu si ofera o abordare si o vizibilitate buna intraoperator. Are riscuri mici de a leza nervul interosos posterior. Trebuie protejat ligamentul colateral extern al corului.
Kaplan: intre muschiul extensor scurt radial al carpului si muschiul extensor comun al degetelor.
Dupa hemostaza si disectia atenta a tesutului subcutanat, se evidentiaza defileul muscular prin care se doreste continuarea interventiei si se ajunge pe capsula articulara. Se practica o incizie la acest nivel, inclusiv prin ligamentul inelar si ligamentul colateral radial. Se evidentiaza focarul de fractura si se cuantifica caracteristicile fracturii. In functie de acesti parametri, se decide excizia, inlocuirea capului cu o proteza sau fixarea cu suruburi sau placa si suruburi.
Postoperator
Dupa interventie, pacientul ramane internat in spital o zi pana va fi externat. Va primi pe durata spitalizarii medicamente pentru durere si antibiotice. Membrul operat nu este imobilizat, insa pacientul este sfatuit sa nu faca miscari ale cotului, in prima zi postoperator, decat la nivelul pumnului si degetelor.
Pacienții vor purta un bandaj compresiv la nivelul cotului timp de 5 zile si vor folosi o orteza speciala cu balama, care se poate da usor jos pentru pansamente si pentru igiena personala. Pacientii pot reveni la activitatile cotidiene in maxim 4-6 saptamani.
Acasa
Cu toate ca recuperarea dupa aceasta interventie este mult mai rapida fata de o interventie clasica care era efectuata in trecut, totusi vor trece cateva saptamani pana o sa recuperati in totalitate articulatia operata. Trebuie sa va asteptati la durere si disconfort, cel putin o saptamana postoperator.
Trebuie sa aveti grija sa nu fortati zona operata facand miscari foarte ample de flexie si extensie, in primele saptamani, pentru ca durerile si disconfortul se pot accentua. Puteti face baie, dar fara sa udati bandajul si inciziile. Firele se suprima la 14 zile postoperator.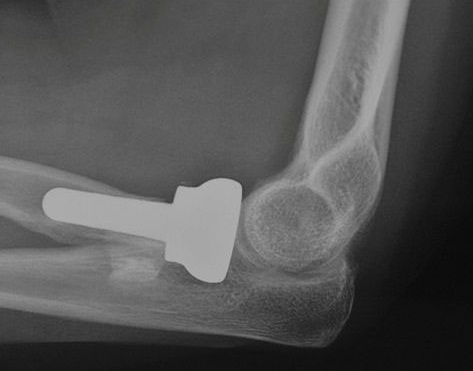 La 6 saptamani postoperator, este nevoie de o radiografie pentru a vedea modul in care se vindeca articulatia afectata. Condusul este permis dupa 6 saptamani, iar munca fizica grea, dupa 12-16 saptamani.
Kinetoterapia joaca un rol foarte important in programul de reabilitare, iar exercitiile trebuie urmarite de catre un kinetoterapeut pana la terminarea perioadei de recuperare.
Este foarte important sa urmati cu strictete si seriozitate programul de recuperare pentru ca interventia chirurgicala sa fie un succes. Echipa noastra medicala lucreaza in medie cu pacientul dupa aceasta interventie, 18-24 saptamani pana la recuperarea completa a zonei operate.
In urma oricarei interventii chirurgicale, recuperarea medicala joaca un rol esential in reintegrarea pacientului sociala, profesionala si familiala. Pentru ca urmarim rezultatul optim pentru fiecare pacient care intra in clinica, medicina de recuperare de la Centrokinetic se bazeaza pe o echipa de
medici si kinetoterapeuti experimentati
si pe protocoale
medicale standardizate
.
Centrokinetic e locul in care vei gasi raspunsuri si solutii clare pentru problemele tale de motricitate. Clinica dedicata afectiunilor osteoarticulare e impartita in urmatoarele departamente specializate:
Afla noutatile urmarind conturile de Facebook si YouTube ale clinicii Centrokinetic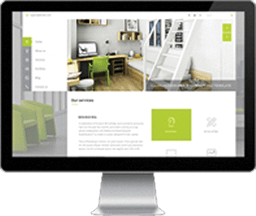 MAKE AN APPOINTMENT
Because in our clinic every treatment is based on a diagnosis and is done under medical supervision.
INFO: Centrokinetic does not collaborate with the National Health Insurance House.
CONTACT US
MAKE AN APPOINTMENT
FOR AN EXAMINATION
See here how you can make an appointment and the location of our clinics.
MAKE AN APPOINTMENT